ART SEARCH
Online directory of artists, galleries, art services, and educational resources devoted to the arts.
Artist and arts institutions are welcome to create their directory listings.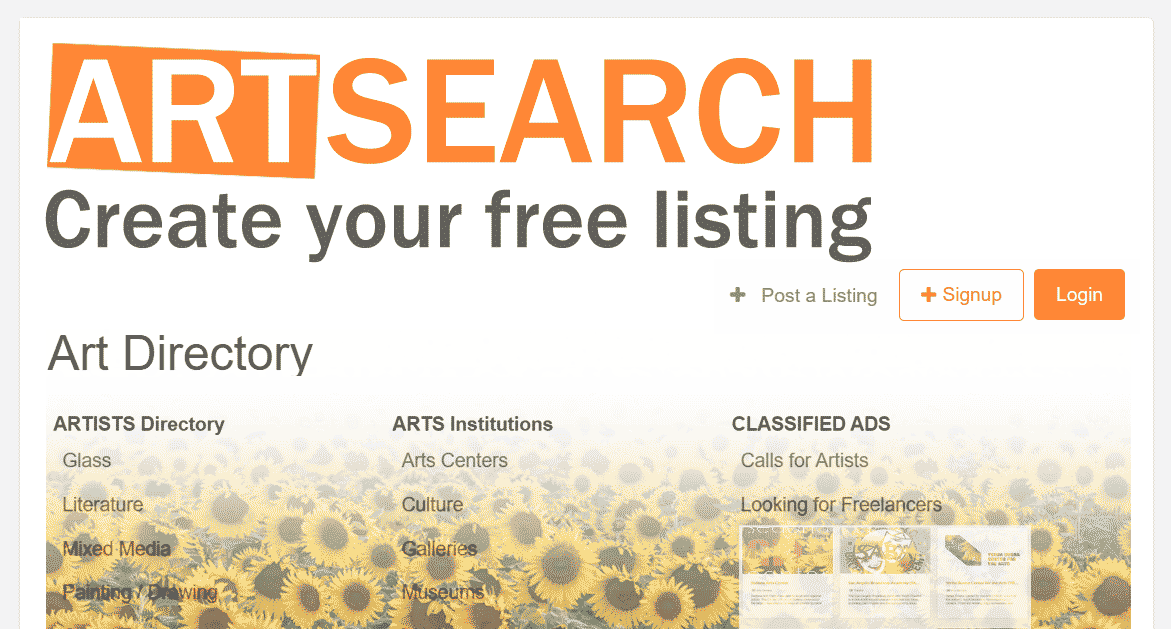 Free submissions to art directory. Create your free listing!
---
---
How to submit listing to ART SEARCH Directory
Sign up and login to your free account

Artists / Arts Institutions

Start to create your free listing by clicking "+ Post a Listing" in upper-right menu

Choose the right category
Fill up all needed fields in submission form:

Title of your listing
Medium
Short Description
About the Artist / Gallery / Art Institution
Description
Create unique, longer description. 160 to 200 words should be fine.
Set maximum 4 tags. Example: painting, sculpture, gallery, exhibition
Optional additional info
Address, Opening hours, Admission Price.


Upload a photos – examples of your artwork.
Contact info.
Choose which contact detail to publicly share (website link, email, phone).
For a small fee you can feature your listing to appear in the featured slider section at the top of the front page.
Chose from Ad Listing Packages
Free submissions are set as pending and must be approved by our editor. (It may take up to 5 days). Free listings are published for 3 months. You can renew your listing right after the expiration free of charge.
Paid – express listings are published instantly after the payment and last for 360 days!.
After clicking "Next" you will get to the final confirmation page.
Confirm and submit your listing.
 
You can edit, hide or delete your listing anytime. 
Are you ready?
---
Focusing on color, texture and composition, I strive to create an atmospheric, positive mood in every one of my paintings.  My process is intentionally slow, thoughtful, and intuitive—much like a […]

Sedona Arts Center represents local and regional artists. The Center's Fine Art Gallery showcases the largest selection in Sedona of artwork by local artists. If […]

Yerba Buena Center for the Arts (YBCA) is one of the nation's most innovative contemporary art centers. From our leading-edge exhibitions and performances, to our […]

The Huntington Beach Art Center (HBAC) is a community arts and cultural center serving Huntington Beach and the Southern California region. The Art Center opened […]

Lori's abstract fine art is comprised of strong bold lines and geometric form that is coupled with an emphasis on space.

Photography, as a powerful medium of expression and communications, offers an infinite variety of perception, interpretation and execution.

Composition of 4 painted wooden cabinet legs A pattern can be applied in two ways. Either one colours the pattern on the background, a positive […]